NARROW GAUGE RAILWAY
Narrow gauge railway belongs to the European technical heritage. In the renovated narrow gauge railway station it is possible to have a look at the exhibition of the railway history, see a coal steam locomotive Kukuška or take a ride in a motor railcar. You can also book a trip from Panevėžys to Anykščiai in advance.
A motor railcar is available for groups of 10 persons or more.

THE HORSE MUSEUM
The museum was founded in 1978 on the initiative of professor of Lithuanian agriculture academy Petras Vasiniauskas. Here visitors can get acquainted with the horse evolution and its importance in the history, have a look at the philately collection, different carriages collected from various parts of Lithuania and get to know Lithuanian countryside. It is also possible to ride a horse or take a short trip in a carriage in Niūronys.
STONE PUNTUKAS
Stone Puntukas is the second-largest boulder in Lithuania, situated 6 km south of Anykščiai, in Anykščiai Šilelis reserve, not far from the Šventoji River. This is the monument of nature, mythology and history, which was designated a geological nature monument in 2000.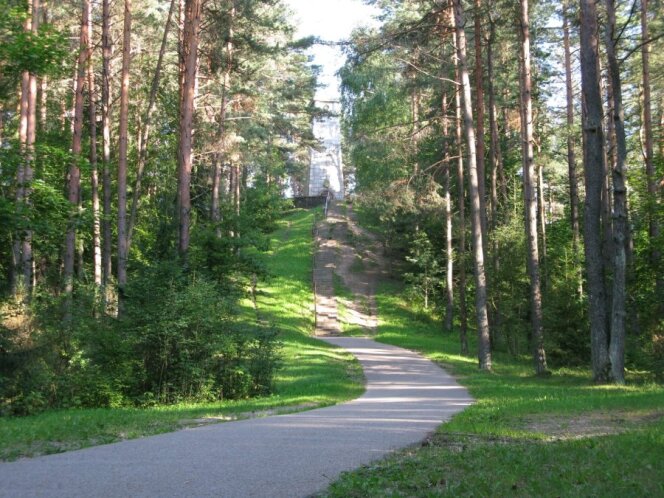 J. BILIŪNAS' GRAVE
Nearly 90 stairs lead up the steep hill to Jonas Biliūnas' grave. The monument on Liudiškai hill in Anykščiai, called the Light of Happiness, attracts not only local residents, but also town guests.
WATER ATTRACTIONS
The biggest and the most beautiful lake in Anykščiai is Rubikiai, which has 16 islands. Visitors here can row a boat, have a picnic, go water biking or windsurf.
Nevežos Lake is used for active attractions and rest. It covers 175 ha area and 4 km length. You can go waterskiing or parasailing.
SWIMMING POOL
Swimming competitions take place in a swimming pool of 25 metres. You can visit it with the whole family.
· WALKING AND CYCLING ROUTES
There is a walking route along the Šventoji River.
Route Anykščiai – Puntukas Stone (5 km).
Cycling route Anykščiai – Puntukas Stone (5 km) in Anykščiai pinewood.
Cycling route Anykščiai – Elmininkai.
WINTER ATTRACTIONS
There is a skiing slope on Kalita hill in Anykščiai. It is 180 m long and the difference in height is 40 metres. It is also possible to enjoy cross country skiing next to Liudiškiai mound in Anykščiai pinewood.
ANYKŠČIAI WINE TASTING
Those who are interested in the traditions of wine production are invited to visit Joint Stock Company "Anykščiu Vynas". The winery offers a programme called "Wine Routes in Lithuania". It is a possibility to visit the biggest wine company in the Baltic countries, get acquainted with the secrets of wine production and enjoy tasting. Beverages to taste are chosen from several menus, which include not only different wines but also other beverages produced by the company.